Remodeling a builder's grade bathroom is a custom service that Construction Specialties offers.  Many Lawrence Kansas neighborhoods were built by developers who used the same standard finish on multiple homes.  When homeowners want their own personality on display, they come to us.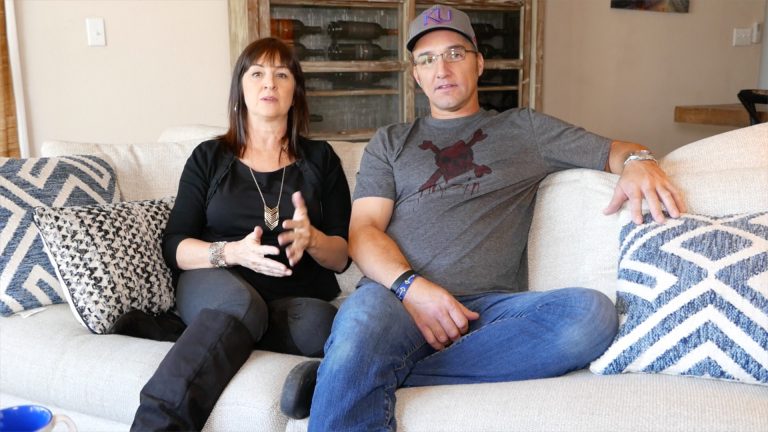 Construction Specialties recently assisted local Lawrence couple, John Adams and Lori Jenna.  Lori is an interior designer.  John owns a home in West Lawrence.  His builder-grade home was in need of a makeover.  For Construction Specialties, it was a match made in heaven.  Lori had experience managing entire room makeovers.  Therefore, she had hand-picked and designed tile in the past.  John wanted to get rid of the basic bathroom that the builder finished 15 years ago.
How to identify a load-bearing wall
The first decision was one that many homeowners face.  Lori and John wanted to open the room up.  However, there was one main obstacle.  A wall appeared to stand in their way.  Luckily, Construction Specialties easily navigates this common dilemma frequently with homeowners.  We worked with a structural engineer to determine whether it was a weight-bearing wall.  Once we determined it was not, we were on our way!
How to add custom finishes to a bathroom remodel
This half bathroom remodel pulled together a variety of personal touches.  First, John and Lori found a dark, large format tile.  They were proud of the monolithic feel.  Then, they brainstormed an accent tile that would give the shower itself more character.  The custom fabricated bull-nose provided a clean division between the shower and the bathtub.  The jacuzzi tub pairs well with an inset shelf.  It's the perfect spot for a wine glass!
"I didn't have to worry about it…We actually went on a few trips while they were gone."
Where to find open-minded, experienced remodeling companies?
John and Lori say that they started their search for a contractor on Thumbtack.  Thumbtack is a website where people can find multiple freelance and contract workers.  They didn't feel like they were finding experienced pros.
During their post-project-interview, Lori and John had many compliments for company owner Mike Warner.  They raved about the freedoms they had to create.
"His guys were great, they came in, were clean, did the work efficiently, they were open to my ideas," Lori said.
"I was in there, often, asking 'is this how we want to do this, maybe we should change this,'" she joked.
"And they were respectful of the ideas that we had."
Project manager Nick Walters also played an important role in the execution.  Once Lori and John's concepts were decided on, the construction was streamlined.
"I didn't have to worry about it…(Mike) and Nick would figure it out.  We actually went on a few trips while they were gone."
John Adams plans to have Construction Specialties back to remodel a living room and its fireplace.  He was happy it was a headache-free experience.
"They're very cool guys, very easy to talk to, very professional guys," John said about the flexibility.
For a free consultation about remodeling a builder's grade bathroom bathroom, call (785) 424-5225.  Construction Specialties also remodels kitchens, basements, and builds home additions.  You can visit us on Instagram and Facebook.
Construction Specialties is licensed and insured.  We are an equal-opportunity employer that has been proudly serving Lawrence since 2015.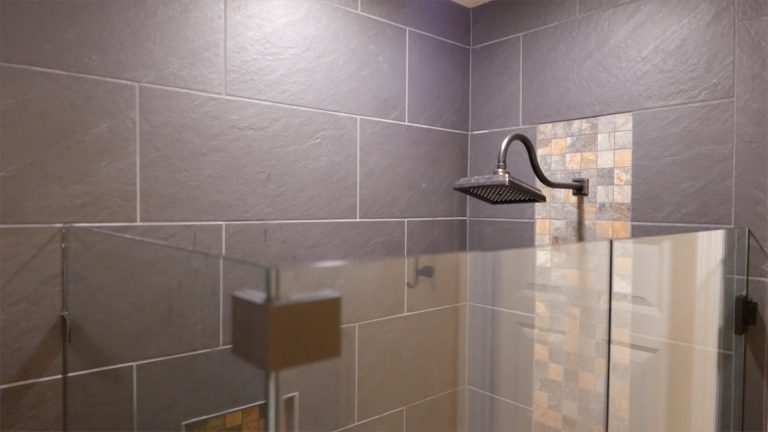 Video production and copywriting services by Matty D. Media LLC, a video production company in Lawrence, Kansas.